4 Surprising Benefits of Honey to Your Skin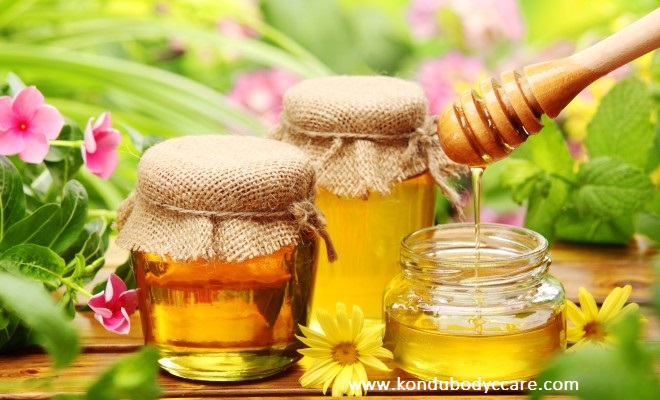 Honey, that beautiful golden, brown, sticky, sweet, liquid that we all love so much in our teas, popularly known to be created by bees. It is all natural and has great nutritional benefits when we eat it, but what is amazing, is the fact that, it also has great benefits to our skin when applied on the skin or used in natural body care products. Here are four surprising benefits of honey to your skin:
Vitamin Rich: Honey is packed with all the essential vitamins your skin needs to stay healthy, youthful and beautiful. Raw honey has vitamins A, C, D, E, and K, all of the B-complex vitamins and amino acids which nourishes the skin and keeps it youthful, and healthy. This makes honey an excellent natural ingredient in certain skin care products.
Excellent for Hydration and Youthful Looking Skin: Honey is an excellent natural humectant which helps your skin to retain moisture throughout the day, preventing excessive dryness of the skin and allowing the skin to hold its elasticity, leading to a soft, beautiful, youthful skin, free from wrinkles. It also preserves the natural oils in your skin which helps the skin maintain its elasticity with a smooth silky feel to it.
Anti-Oxidant Rich: Honey is full of anti-oxidants that fight and prevents free radicals in the environment from destroying skin cells, preventing premature wrinkles, and aging of the skin
Antibacterial and Moisture Balance: Honey has great antibacterial properties which makes it a perfect skincare ingredient for people with acne prone or oily skin. It helps balance the amount of oil produced in your skin by fighting oil producing bacteria that causes breakouts and acne.
Konadu Body Care by Nature uses honey in their Brown Sugar Body Scrubs and Shea Body Balms to infuse all the essential vitamins into these products for a nourished, healthy glowing skin, and to regulate and create a perfect moisture-oil balance for your skin, while keeping it soft, supple and healthy.
To enjoy and experience all of these benefits of honey to your skin, it is important to choose and use Natural Raw Honey for maximum benefit.