Why Rose Hip Seed Oil Is A must Have Skincare Ingredient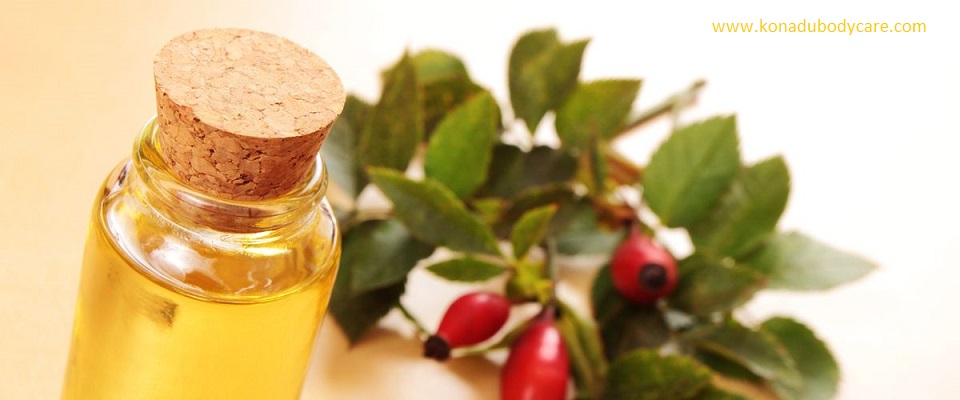 Rose Hip Seed Oil originates from the rose hip fruit and dates back centuries to the Native Americans, Mayans, and Egyptians. Due to its high content of fatty acids, Vitamin C, and Vitamin A, rose hip seed oil works wonders for dry and itchy skin. As an anti-inflammatory agent, rose hip seed oil soothes irritated skin. It is light, non-greasy, and easily absorbed into the skin, which makes it equally suitable for sensitive skin.
Rose hip seed oil catches the attention of many in the beauty industry because of its success in treating dark spots, old scars, tough to remove stretch marks, and burns. For the avid sun tanner, rose hip seed oil repairs UV damage and discoloration caused by the sun. A natural alternative to Botox and a great anti-aging agent, rose hip seed oil works to rejuvenate skin, treating wrinkles and fading out fine lines. In addition, rose hip seed oil serves as a natural remedy to heal skin disorders such as Acne, Psoriasis and Eczema.
At Konadu Body Care, we purposely use this amazing organic rose hip seed oil in our Body Butters and Body Lotions to ensure you are getting all the necessary vitamins and benefits of rose hip seed oil, for the beautiful, flawless, and younger looking skin you desire. Full of skin essential vitamins, we believe the combination of rose hip seed and other anti-aging oils in Konadu Body Care Lotions and Butters makes them a great choice for moisturizers.